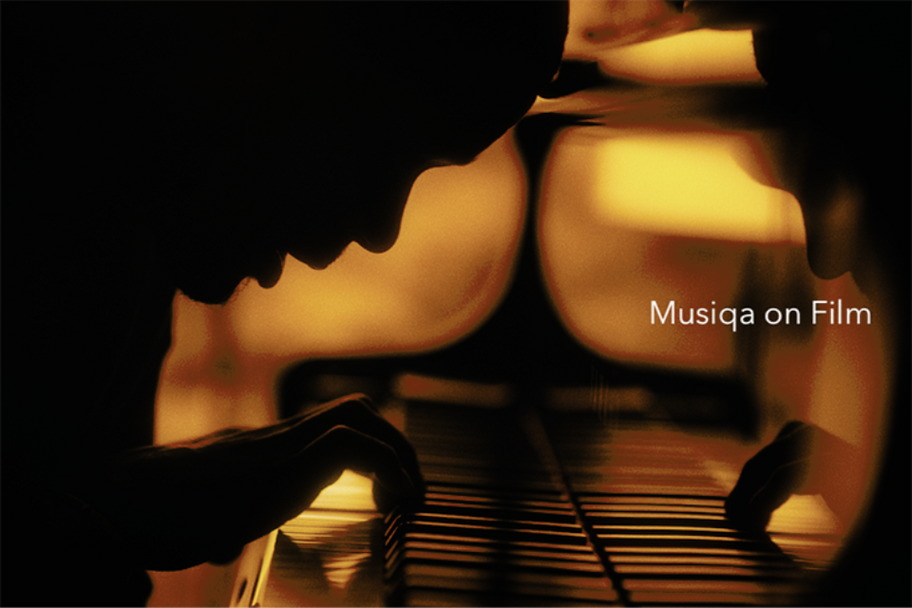 A marriage of live performance and cinema unlike anything else on Houston stages this year
Musiqa on Film - A collaboration with Houston Cinema Arts Society
Live musicians and their amplified string instruments interact with ghostly silent films of Stravinsky and a handful of famous conductors. The voice of Charlie Parker trades riffs with a live saxophonist in a tribute to some of jazz's greatest players. A newly discovered geometric object challenges our notions of space and time, allowing mathematicians to condense complex quantum physics into astoundingly simple formulas. And dozens of Houston artists appear on screen in collaboration with local musicians – Musiqa on Film is a marriage of live performance and cinema unlike anything else on Houston stages this year.
These aren't films that you can appreciate from the comfort of your laptop. Together Houston Cinema Arts Society and Musiqa are proud to present these challenging experimental works by Sivan Eldar, Jacob TV and Nick Zoulek, along with Musiqa-commissioned films by Houstonians James Templeton and T Lavois Thiebaud receiving their big screen premieres.
---
ARCHIVE[s] by Sivan Eldar
Archive[s] explores the symbiotic relationship between conductors and instrumentalists, and the performative act of musical expression. Silent film of Stravinsky, Gergiev, Rattle, Arnold, and Tilson Thomas conducting the Finale of the Firebird are synched to one another, becoming both masters and slaves to a new composition performed by a violinist (Jackson Guillen) and cellist (Courtenay Vandiver Pereira) on stage.
BUKU by Jakob
TV From a recording of Charlie Parker we hear him say of Dizzy Gillespie, "I don't remember precisely, I just know that he was playing in what you might call in the vernacular streets of Buku." The reporter does not seem to know what the word 'beaucoup' means... Accompanied by saxophonist Nicholas Bissen, Buku is about the 'soul' of the alto sax and a tribute to 3 alto giants: Charlie Parker, Cannonball Adderley and Art Pepper.
AMPLITUHEDRON by Nick Zoulek
There is a geometric figure that depicts a concept so complex that it, in many ways, summarizes the foundations of reality, uniting our understanding of particle interactions on the largest and smallest scales of the universe. The amplituhedron was introduced by Nima Arkani-Hamed and Jaroslav Trnka in 2013. Zoulek's composition expresses a chaotic and meditative tapestry of sound that is specific to the saxophone, drawing from the vocabulary of experimental and avant-garde champions of the instrument, reflecting the complexity and simplicity involved in the discovery of the amplituhedron.
MOVING PIECES by James Templeton and CAPRICCIO by T Lavois Thiebaud
Created during the covid pandemic in collaboration with Open Dance Project and dozens of other Houston artists, these two films use completely different techniques to explore the space we occupy in Houston and the people we occupy it with.
A CONCERTO IS A CONVERSATION by Ben Proudfoot and Kris Bowers
Kris Bowers is one of Hollywood's rising young composers. At 29, he scored the Oscar-winning film Green Book (2018), and this year he premiered a new violin concerto, For a Younger Self, at the Walt Disney Concert Hall in Los Angeles. For all that success, though, he says that as a Black composer, "I've been wondering whether or not I'm supposed to be in the spaces that I'm in." In Ben Proudfoot and Kris Bowers's A Concerto Is a Conversation, Bowers traces the process of breaking into new spaces through generations of sacrifice that came before him, focusing on the story of his grandfather Horace Bowers. The evening will also feature music for violin and cello by Texas based composer Michael Ippolito.
---
Saturday, March 4 at 7:30 PM
Sunday, March 5 at 4:00 PM
Runtime: 90 minutes
Tickets: Pay-What-You-Can