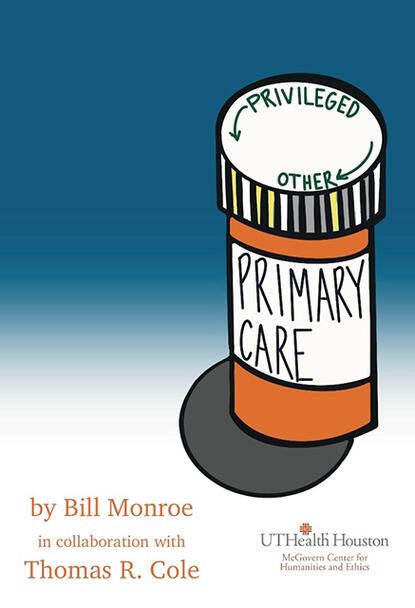 | Date | TIme | |
| --- | --- | --- |
| Monday, Oct. 9 | 7:30 PM | Register |
by Bill Monroe in collaboration with Thomas R. Cole
Registration for complimentary tickets open soon
---
Keeping alive a person with profound dementia. . . why?
Beginning at 7:30 pm, patrons will see and hear a staged reading of Primary Care, a play written by Bill Monroe in collaboration with Thomas R. Cole. Based on an actual case, the play raises questions about health care procedures and power relationships, quality of life, and personhood. The play opens with a retrospective soliloquy by Eliot "Stony" Marcher, the chief resident at an urban public hospital. An Alzeimer's patient has been fed through a nasogastric tube for over a year when the death of a senior geriatrician forces a reevaluation by the health care team. After Stony and Jolanda Winstone, a third-year medical student, reinsert the feeding tube, Dr. Marcher pleads with Dr. Marsha LeMarque, the attending physician, to remove the tube once and for all and let nature take its course. Mrs. Wynn Brooks, a nurse aid, claims to have a personal relationship with Sybil Dean Riegel, the Alzheimer's patient, and she stands in their way.
"Thank you for letting me see the play, with its strong story, real people, natural sounding dialogue."
—Gwendolyn Brooks, first Black American to receive the Pulitzer Prize
---
Monday, October 9 at 7:30 PM
Runtime:
70 minutes followed by a Q&A
Tickets:
FREE with registration
---
The Players (in order of appearance)
Ralph Biancalana (Stony Marcher).
Ralph Biancalana has worked locally with Island ETC, Queensbury Theatre, Caduceus Theater Arts Company, Dirt Dogs Theatre, Playhouse 1960 and STAGE RIGHT of Texas, among others. Past theatre credits include 'ART' (Marc), Baskerville (Sherlock Holmes), Lobby Hero (Bill), Seminar (Leonard), The Runner Stumbles (Father Rivard), Don't Dress for Dinner (Bernard), Bell, Book and Candle (Shepherd Henderson), Blithe Spirit (Charles Condomine), The 39 Steps (Richard Hannay), Rough Crossing (Ivor Fish) and Extremities (Raul).
Tanya Fazal (Jolanda Winstone)
Tanya Fazal is thrilled to be a part of Primary Care! Other favorite roles include Medea in Medea, Lady Macduff in Macbeth, Thetis in Andromache, Trisha in Five Women Wearing the Same Dress, Jeanette in Last of the Red Hot Lovers, Juror 12 in 12 Angry Jurors, Wicked Witch of the West in Dorothy in Oz, and Miss Bennett in The Unexpected Guest. Television credits include The Daily Show with Jon Stewart. Tanya has trained at Stella Adler and HB Studios. Tanya also holds an MBA from NYU Stern and has a storied career in Marketing working at large companies, such as American Express and Sysco. www.tanyafazal.com
Martha Hill Jamison (Marsha LeMarque.
Before retirement, Martha Hill Jamison served as a judge in Harris County for twenty years. She kept her thespian talents honed by performing in Houston's annual all-lawyer musical comedy, Night Court, for decades. Favorite roles include: Mary Ann (Gilligan's Island), Della Street (Perry Mason), and ABBA.
Joyce Anastasia Murray (Wynn Brooks)
Joyce Anastasia Murray was last seen in Vincent Victoria Presents' production of Dreamgirl Deferred. Houston audiences have been delighted for years with her dramatic and comedic performances, among them: Main Street Theater's productions of Cinderalla, The Watsons Go To Birmingham, Akeelah and the Bee, and Woof. She is a regular at The Ensemble Theatre, where appearances include Freeda Peoples, Eighth Day of the Week, Nacirema Society, The Dance on Widows Row, Old Settler, Buses, Livin' Fat, Waiting to Be Invited, Over 40, and Black Nativity. At Queensbury Theatre she played multiple roles in Breaking Out of Sunset Place. She appeared at Stages Repertory Theatre in To Kill a Mockingbird, World of Beauty, and Pacific Overtures and at Theatre Under the Stars in Little Shop of Horrors, Bells Are Ringing, Show Boat, and South Pacific.
Joan Hodges (Margie Dunne)
Joan Hodges is honored to participate in this thought-provoking staged reading of Primary Care. She has performed roles in Houston, Brenham, and Conroe, including Clairee (Steel Magnolias), Lexie (The Sweet Delilah Swim Club), Hilary (Guess Who's Coming to Dinner), Vi (Footloose), Margaret Thatcher (Handbagged), and Sister Mary Lazarus (Sister Act, The Musical). The disease of Alzheimer's and the struggle to provide quality care touch so many of our lives, and participating in an exploration of that challenge is very meaningful to her. She appreciates your joining us this evening.
Bill Monroe (Narrator and Playwright)
Bill Monroe recently retired from the University of Houston where he was Professor of English and O'Connor Abendshein Professor and Dean of the UH Honors College, which in 2018 was recognized as one of the top ten honors programs in the nation. Prior to becoming dean and after a stint as Rockefeller Fellow-in-Residence at the Institute for Medical Humanities at UTMB-Galveston, Monroe established the Medicine & Society honors minor and created a popular Literature and Medicine course in the English Department at UH. In 2016 he became the founding president of the University of Houston Chapter of Phi Beta Kappa and is the president of the Phi Beta Kappa Alumni Association of Greater Houston. Monroe's teaching, presentations, and research focus on "literature as equipment for living"—the connecting of stories, plays, and poems to everyday life— and he is currently at work on a book manuscript, "The Myth of Mastery: Flannery O'Connor and the Vocation of Affliction."
Thomas R. Cole (Collaborator)
A nationally renowned gerontologist, Thomas R. Cole is Professor Emeritus of Oslerian Medicine and the former and founding Director of the McGovern Center for Humanities and Ethics at The University of Texas Health Science Center. Formerly he was professor of history and medicine at the Institute for the Medical Humanities, UTMB-Galveston. He served as a consultant to the President's Council on Bioethics and as advisor to and speaker for the United Nations NGO Committee on Ageing. His book The Journey of Life: A Cultural History of Aging in America was nominated for the Pulitzer Prize. Cole is also the author of Old Man Country: My Search for Meaning Among the Elders and No Color is My Kind: The Life of Eldrewey Stearns and the Integration of Houston, a book that inspired a PBS documentary, The Strange Demise of Jim Crow.
---
The Characters
Eliot Marcher
Nicknamed "Stony," he is a big, ruddy, physical man and chief resident at Jeff Davis County Hospital. His dominating personality and sarcastic humor reveal the disillusionment he has experienced in his medical education and almost conceal a boyish vulnerability. The med students are slightly in awe of him and he is known as a peerless and uncanny diagnostician. He wears a Mickey Mouse lapel pin on his "cape," a long white lab coat frayed and split up the back seam. Beneath the lab coat he wears ostrich skin cowboy boots and jeans with a thick leather belt. His brass belt buckle depicts a physician on horseback; the caption reads "Medicine in Texas."
Sybil Dean Riegel
A woman, blind, with advanced Alzheimer's disease. Widowed and childless. 90's.
Jolanda "Jo" Winstone
A nurse, Anglo-Hispanic, working her way through medical school, currently in her third year. B.S.N. degree. Single. Late 20's.
Dr. Marsha LeMarque
Attending physician, faculty member, Internal Medicine, at Jeff Davis, an urban teaching hospital. Competent, well-respected, efficient. Somewhat strenuously self-fashioned. M.D. degree. Unmarried. Late 40's.
Wynn Brooks
A nurse aide and private home healthcare assistant who typically works night and weekend shifts at Jeff Davis. Widowed, with five living children. High school diploma from Booker T. Washington. Mid 50's.
Margie Dunne
Mrs. Riegel's niece. Semi-retired and living in Beaumont. Married, with grown children in Austin and San Antonio. 60's or 70's.
Three residents at Jeff Davis: Jenn, second year, 28; Doug, fourth year, early 30's; and Keith, first year, 26.
Talkback with Actors, Playwright, and Collaborator
After the reading and a 10-minute break, the actors will join Bill Monroe and Tom Cole for a half hour of questions, comments, and informal discussion with the audience.