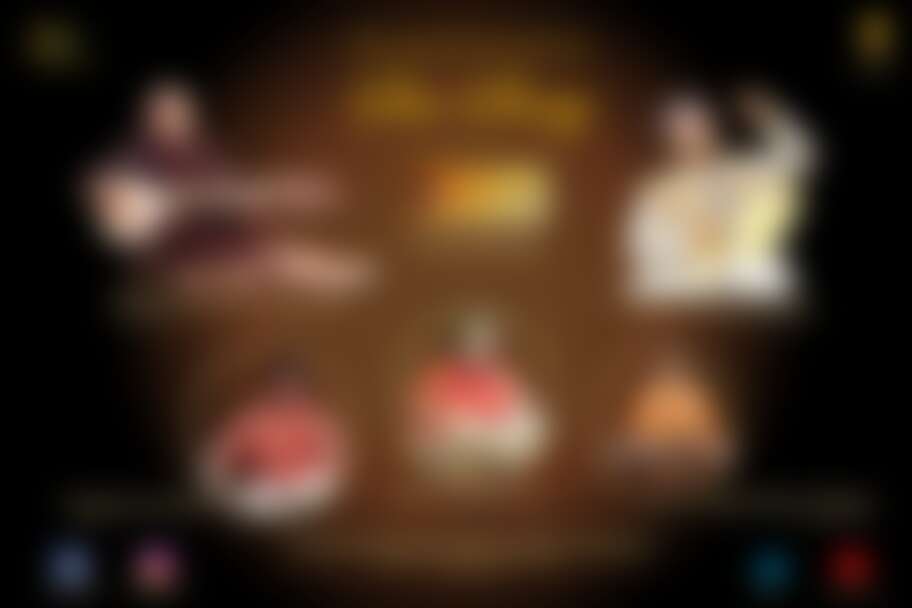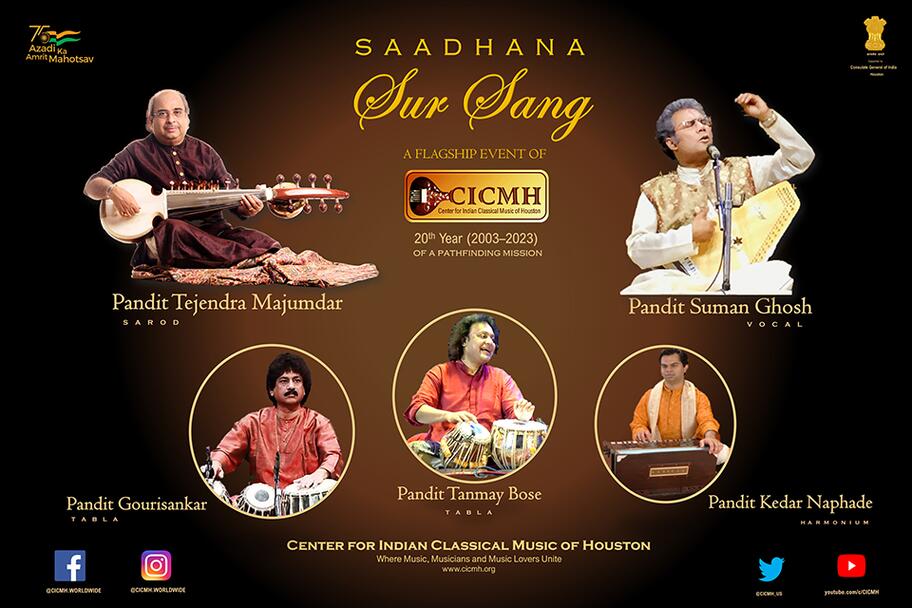 This is our Flagship Event featuring two special concerts for Mother's Day. One of the best-known and celebrated Sarod Maestros of today's time, an illustrious torchbearer of the Senia Maihar Gharana, Pandit Tejendra Narayan Majumdar Ji and Mewati Maestro and celebrated Hindustani Classical Music Virtuoso Pandit Suman Ghosh. They will be accompanied by Pandit Tanmay Bose and Pandit Gourishankar on the Tabla and Shri Kedar Naphade on harmonium.
Let the Maestros of Saaz (Intruments) and Awaaz (voice) entwine our souls with the mesmerizing melodies and rhythms of Indian Classical Music.
---
First Half - Vocal Concert by Pandit Suman Ghosh
Pandit Suman Ghosh is no stranger to the Houston audiences. His mellifluous voice, soul-stirring artistry and technical perfection receive rave reviews worldwide. India's leading daily, The Times of India described his concert with the headline "A Night of Musical Bliss." He has had the rare privilege of performing for the President of India, Dr. APJ Abdul Kalam at Rashtrapati Bhavan, the official Presidential residence. Key honors bestowed upon him include a Lifetime Achievement Award, Gold Medal for Excellence at the Park City Film Music Festival and a Proclamation 'Pandit Suman Ghosh Day' by the City of Houston commemorating his arrival here.
Besides his genius as a performing musician, Pandit Ghosh is also a path-finding Guru. As the founder of the Center for Indian Classical Music of Houston (CICMH), Pandit Ghosh has created this unparalleled and exceptional institution, to increase awareness, understanding and respect for this ancient Indian art form and its lineage. His efforts have been lauded by Mayor Sylvester Turner who congratulated him for helping put Houston on the Cultural map of the world.
Second Half - Sarod Concert by Pandit Tejendra Narayan Majumdar
An illustrious torchbearer of the Senia Maihar Gharana, Pandit Tejendra Narayan Majumdar has had the privilege to train under some of the stalwarts in the field who molded his latent talent into genius through intensive training. He is a leading disciple of one of the Legends of Indian Music – Swar-Samrat Late Ustad Ali Akbar Khan saheb, Pt. Tejendra Narayan Ji's music combines the intellectual depth, technical virtuosity and the iconic aesthetic richness of his gharana. Above all, through the purity and dexterity of his style of sarod playing, he takes the listeners along with him with remarkable ease- a quality that is the true hallmark of a genius.
Pandit Tejendra Narayan Majumdar's brilliance and popularity as a classical artiste has not dimmed his interest in composing, arranging, and experimenting in other areas of music. From composing the background score of meaningful films to musical ballets to music for Bengali films, he is always ready to take on any musical challenge. He has also composed and arranged music for different world-renowned singers.
---
Sunday, May 14 at 2 PM
1:45 PM
Doors Open
2:00 PM
First Half Begins
4:00 PM
Compliemtary Snacks & Tea in the Lobby
4:30 PM
Second Half Begins
TICKETS:
$20/$30/$50
$10 Student Tickets available at the box office with valid student ID.
---
*In-Person Sales
Please note that our online sales will end 2 hours prior to each performance times. Tickets may still be purchased but only at the box office.