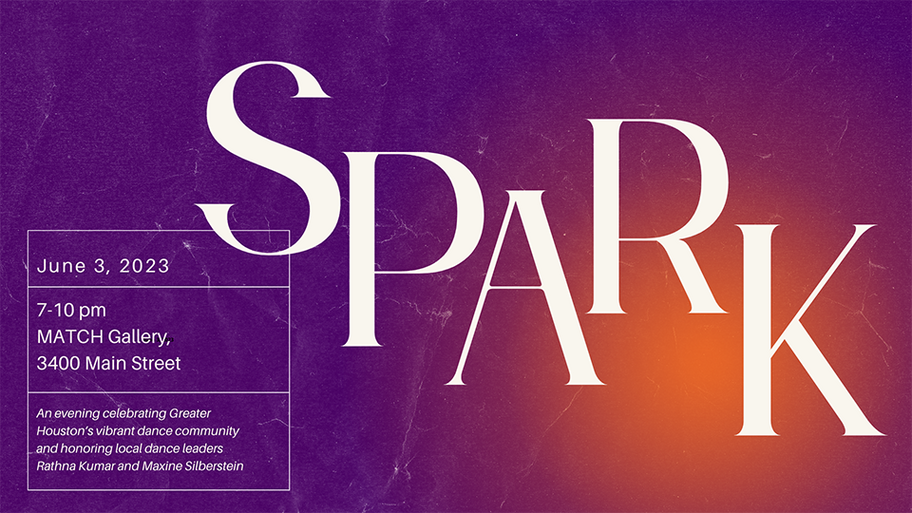 Join Dance Source Houston for SPARK, a night celebrating the vibrancy and resilience of our dance community and spotlighting the contributions of local dance leaders Rathna Kumar and Maxine Silberstein! The evening will offer attendees an opportunity to hit the dance floor alongside dancers, choreographers, and dance patrons, in support of Dance Source Houston. SPARK will also include a performance by Indian Performing Arts Samskriti.
Rathna Kumar will be presented with the Dance Source Houston Artistic Honor and Maxine Silberstein with the Giannelli Service Award, named after DSH's founder Christina Giannelli. Funds raised at the event will support Dance Source Houston programs that provide direct support to danceworkers, including Artists In Residence, Dancer Fund, Dancer Physical Therapy Clinic, Day of Dancer Health and more.
Raise a glass to our honorees, show off your moves, and take the floor with the who's who of Houston dance at SPARK!
---
Saturday, June 3, 2023
7:00 PM to 10:00 PM
TICKETS
$65 Regular
$100 Patron
*DSH Member recieve a $35 ticket price. Use member code at checkout.
CLICK HERE to donate directly
to Dance Source Houston today!
---
Don't miss this year's BARNSTORM DANCE FEST (June 6 to June 10)!
---
Giannelli Service Awardee - Maxine Silberstein
Maxine Silberstein has had a distinguished career as a performer, teacher, educator, and mentor. Over the span of 50 years, Maxine has curated and organized dance programs at the Evelyn Rubenstein Jewish Community Center of Houston. During Dance Month at the Kaplan Theatre, nationally known performers appeared on the Kaplan stage such as Gus Giordano Jazz Dance Chicago, Ohad Naharin Dance Company, Danielle Agami's ATE9 Dance Company, Dallas Black Dance Company, Koresh, and Gallim. International companies presented were Vertigo, Inbal Dance, and Sheketak. Diane Walker, Acia Gray, Sam Weber, Jason Samuels Smith, and Dormeshia Sumbry-Edwards were a few of the tap greats that appeared at the Kaplan Theatre. I W Marks Jewelers Master Classes, a partnership with SPA, included members from Alvin Ailey Dance Company, Bella Lewitzky Dance Company, and Jose Greco Dance Company. Locally favorites were Houston Choreographers X6, Houston Ballet II, and International Folkdance.
As Dance Director at the J, she introduced Maccabi Dance to the Maccabi Games, presided over JCC Summer Dance Camps, directed the Dance Event for the Senior Olympics, developed the JCC Dance Initiative bringing together independent choreographers and dancers to present a concert, and Summer Dance Festival "Texas Tanz" featuring workshops, master classes and performances. She created What's happening on Houston's Dance Scene, a forum to discuss dance events in Houston.
Silberstein is the recipient of the inaugural Buff Orpington Houston Contemporary Dance Achievement Award (also known as the Buffy), the Jerry Wische Staff Excellence Award from the ERJCC and in the Houston JCC Maccabi Hall of Fame.
Currently, Silberstein serves on the Performing Arts Houston Education and Community Committee. Additionally, she has served on numerous boards including the Board of Trustees of the Houston Dance Coalition, Discover Dance Group, Weave Dance Company, Kinetic Architecture, Uptown Dance Center, the Advisory Board of Sandra Organ Dance Company, and the HCC Central College World Dance Institute Board.
Silberstein performed with Houston Contemporary Dance Company under the direction of Lynn Reynolds and Joan Karff's New Dance Group. Additionally, she was a teaching artist for the Texas Institute for the Arts and the Wolf Trap Institute for Early Learning Through the Arts. Silberstein has taught for The River, a performing and visual arts center for children with disabilities. She directed and choreographed for the University of Houston Honeys under the Guy Lewis basketball program.
Silberstein received her B.S. in Special Education and Physical Education with an emphasis in Dance from the University of Houston. She began her dance training with Doris Hede of LaMarque. Studying all forms of dance in Houston, instructors included Fred Strobel, Anita Dyche, Camille Long Hill, Patsy Swayze, and Rudy Jenkins. She furthered her dance education with classes in New York with Alvin Ailey School, Jennifer Mueller, Merce Cunningham, and Luigi.
She has been married for 54 years to her beloved husband Bubba and they share their love with their two children Steffani and Brent. She continues to pursue her passion in creating collaborations between companies, choreographers, and dancers in the Houston Dance Community, and to teach young children the art of dance.
Dance Source Houston Artistic Honoree - Rathna Kumar
Rathna Kumar brought a new dimension to the Texas Arts scene in 1975 with the state's first Indian dance institute, the Anjali Center for Performing Arts. She is the only Indian American to receive the Government of India's Sangeet Natak Akademi Award for Excellence in Classical Dance. She is a world renowned dance icon, choreographer, teacher, arts educator, singer, stage and screen actor, linguist and published author of two unique books on the fundamental techniques of Bharatanatyam and Kuchipudi. Among her honors - Congressional Recognition, Nomination to the Texas Women!s Hall of Fame, Distinguished Asian Award (Houston Metro), Asian Legacy Award (Houston Community College), Lifetime Achievement Award (Asian Pacific American Heritage Association) and an Honorary Doctorate in Performing Arts from India.
Rathna has 33 original full length dance productions to her credit and is noted for her brilliant and unique choreography, for which she has received several Individual Artist grants from the City of Houston through the Houston Arts Alliance and a Groundwork Grant from Dance Source Houston for her cross-cultural project, A Story, A Song and A Dance. Rathna is a founding member and Artistic Director of Samskriti, Houston's first pan-Indian non-profit arts organization, established in 1995. As a member of UNESCO!s International Dance Council she was an invited speaker at Arts Education and Creativity conferences in Greece, Portugal and Hong Kong. She also represented the US as a performer and a participant on the Culture in the Diaspora panel at the Pravasi Bharatiya Divas (international gathering of non-resident Indians), India, in 2006. As aperformer Rathna has travelled the world, participating in events such as the Festival of India in Mexico City, and the First European Telugu Conference Conference in Manchester, UK.
Rathna has been teaching Bharatanatyam at Rice University since 2002 and a Teaching Artist with the Young Audiences of Houston for 33 years. She has been a Dance Panelist, Grant Programs, for the National Endowment for the Arts, the Texas Commission on the Arts and the Houston Arts Alliance. Her Anjali Dance Company and Anjali Repertory Dance Company have performed all over Houston and in other cities, at prestigious events and venues.
About Dance Source Houston
Dance Source Houston is a 501(c)(3) nonprofit organization dedicated to empowering the diverse individuals and organizations working in the field of dance throughout the Greater Houston region by means of advocacy, inclusive community engagement and support services. Founded in 2005, Dance Source Houston is a resource for all things dance in the Greater Houston area and provides programs and services to address the evolving needs of the local dance community. Dance Source Houston is funded in part through support from The City of Houston through the Houston Arts Alliance, the Cullen Trust for the Performing Arts, Houston Endowment, the National Endowment for the Arts, and the Texas Commission on the Arts. dancesourcehouston.org