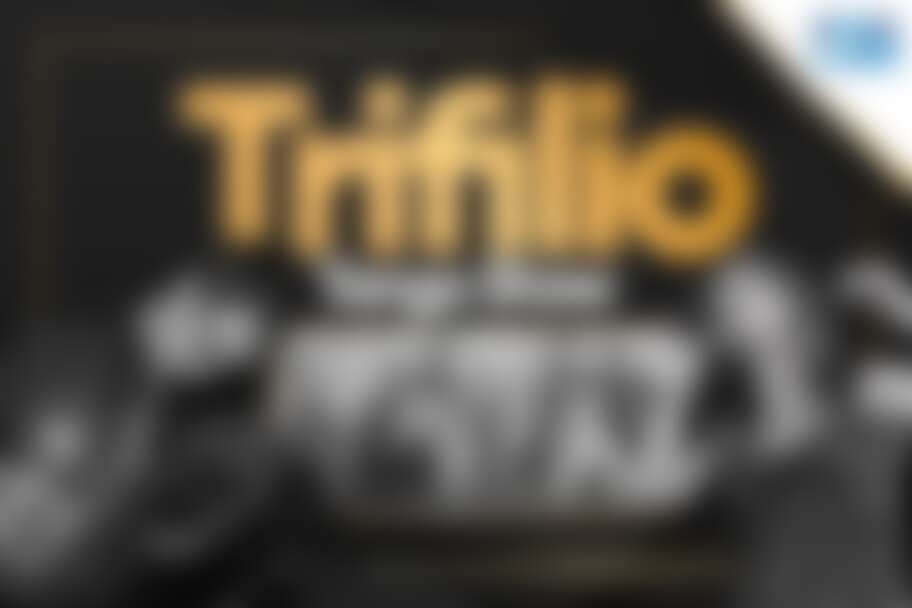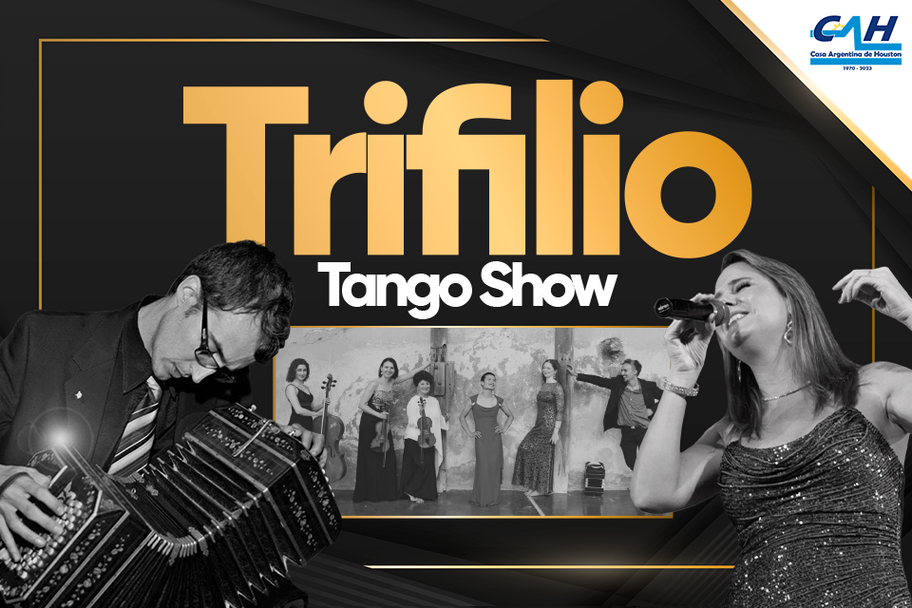 A thrilling tango show featuring the renowned bandoneon master & prolific tango composer Emmanuel Trifilio, QuinTango, one of Washingon's finest instrumental ensembles, and the celebrated Argentine tango singer Mariana Quinteros.
Be prepared for ninety minutes of a unique tango music experience!
---
Saturday, September 23 at 8:00 PM
Runtime:
2 hours with 1 intermission
Tickets:
$99 GOLD Seating
($79 with promo code exclusive to 2023 CAH Members)
$79 VIP Seating
($64 with promo code exclusive to 2023 CAH Members)
$64 General Seating
($49 with promo code exclusive to 2023 CAH Members)
Become a Casa Argentina de Houston member HERE to recieve the promo code.
---
Watch the music videos:
---
Trifilio Tango Show Underwriter:
BLUE WAVE SUPPLIER DEVELOPMENT PROGRAM
Thanks also to Terraces at Palm (Luxury Rentals), Alexis Franco Filmmaker, Borello Travel and Tours & Doray Castillo Productions
Information: casaargentina.org, eventos@casaargentina.org or 713-826-0445
Sponsorship Opportunities: eventos@casaargentina.org, 713-826-0445 or 281-460-6725
---
Emmanuel Trifilio:
International bandoneonist and prolific tango composer Emmanuel Trifilio brings a fresh perspective to the traditional tango sound, both in performance and composition. Now based in Washington, D.C., Sr. Trifilio's career began as a bandoneon soloist at venues such as the famous Cafe Tortoni in Buenos Aires. After establishing himself as an accomplished performer in Argentina, he was invited to join Los Inmigrantes Tango Orchestra, which won Buenos Aires's annual tango orchestra contest soon after. Sr. Trifilio's career expanded across South America when he was invited to tour Chile with Maestro Tato Finocci.
Sr. Trifilio then traveled to Europe for booked performances; after extended residencies in Italy, Sweden, Denmark, and Finland, he settled in the U.S. He has since appeared, as a soloist, on the main stages of Carnegie Hall, Kennedy Center, and Lincoln Center with small and large ensembles including the Choral Arts Society of Washington and National Philharmonic Orchestra. Lancaster Symphony Orchestra, Pan American Symphony Orchestra, Endless Mountains Music Festival Orchestra, and Florida International University Orchestra and Chorus have also featured Sr. Trifilio. He joined the South Carolina Philharmonic in 2017, performing Astor Piazzolla's Concerto for Bandoneon.
Sr. Trifilio collaborated as arranger and bandoneonist on QuinTango's 2014 album Tango Lovers. He can be heard with esteemed cellist Gautier Capuçon on the soundtrack of the short film Le Petit Nuage. He toured New Orleans and Lincoln Center with the Octavio Brunetti Tango Orchestra, traveled with the internationally acclaimed band Otros Aires as a solo bandoneonist in their 2014 U.S. tour, and performed with Alejandro Ziegler Quartet on their 2016 U.S.-Canada tour.
In addition to solo performing and arranging, Sr. Trifilio composes and presents original tangos with various ensembles across the East Coast. The world première of his Tango Suite No. 1: Five Movements for Bandoneon, Cello, and Guitar was featured at the Embassy of Argentina as part of the Pan American Symphony Orchestra's 2015 Tango Festival. A founding member of New York Tango 6, a traditional tango sextet dedicated to premiering new tango works, Sr. Trifilio, performed world premieres of several of his works at the group's debut concert.
Founded in 2015, his Trifilio Tango Trio presented virtuosic programs of all new and original tango music by Sr. Trifilio. Bandoneon, cello, and guitar, TTT have recorded two albums of Sr. Trifilio's original tangos and tours internationally. "Milonga de la Ausencia," from their first album, Original, is featured on the short film "Vuelve con nosotros" and was nominated for Best Original Score at MOFF Film Festival in Milan in 2016. TTT's booked appearances for 2017-2018, including D.C., NYC, San Francisco, Richmond, Havana, Miami, Houston, Denver, and Buenos Aires.
Sr. Trifilio regularly performs with the chamber group QuinTango and is currently composing new works for the venerated Bandoneonist Daniel Binelli.
QuinTango:
Hear the heartbeat of classical Argentinian tango channeled by a quintet of top-notch female chamber musicians and their crackerjack bandoneon player. This is tango like you've never imagined: classical chops, jazz harmonies, and intimate arrangements written by outstanding composers in Buenos Aires for the group. 'Chamber tango' is the result of this musical alchemy, a middle ground that draws in both classical and non-classical music lovers to experience life's fullness—the stories, the culture, and the exhilaration of tango.
QuinTango's musicians are top-notch classical instrumentalists whose distinctive "chamber tango" style blends intimacy and bravado with passion and precision. At home, as well as on concert stages or in classrooms, QuinTango re-imagines tango classics, shares deeply personal originals, and treats their audiences to tango-inflected versions of familiar ballads.
Over its 20-year history, QuinTango's command performances have ranged from the White House to memorable concerts in 23 states at venues ranging from Stanford University and Lincoln Center Plaza to the Kennedy Center and Piccolo Spoleto in Charleston. They have performed at international festivals in Costa Rica and the Amalfi Coast—and toured France, Italy, Mexico, Guatemala, Argentina, and Uruguay (QuinTango Photo credit: Alexandra Russell)
Mariana Quinteros:
Born in Buenos Aires, Argentina, in 1976, Mariana started studying vocal techniques at a very young age, and since 2004 she has chosen tango as her way of expressing herself. She has performed in the most traditional tango places in Buenos Aires, such as Taconeando, La Viruta, Notorious, Café Vinilo, Clásica y Moderna, La Dama de Bollini, Salta y Resto, etc. In 2012 she released her album "Carmín," recorded with some of the most renowned musicians of the genre and with a carefully selected repertoire.
Currently, she is developing an essential activity in the USA through different venues such as the Florida Tango Festival, Open Stage Club, The Place of Miami, Capri Theater and Bar, Italian Club of Tampa, Artis Theater in Naples, and Rosslyn Spectrum Theater in Washington DC. Last year she had an international performance participating in the concert "Amor de Tango" at "Teatro Municipal de Asunción" with the Symphonic Orchestra of Paraguay and with the same spectacle at the New World Center with the Miami Symphony Orchestra. Her last work was the release of the album "El Mundo is the World," recorded with "Orquesta Victoria" from Buenos Aires in a tour through New York, San Francisco, and Los Angeles, performing in theatres such as Herbst, Sherwood Hall, Alex, Lincoln Theater, Trianon, Freight & Salvage, and Centinela Valley Center for the Arts, among others.