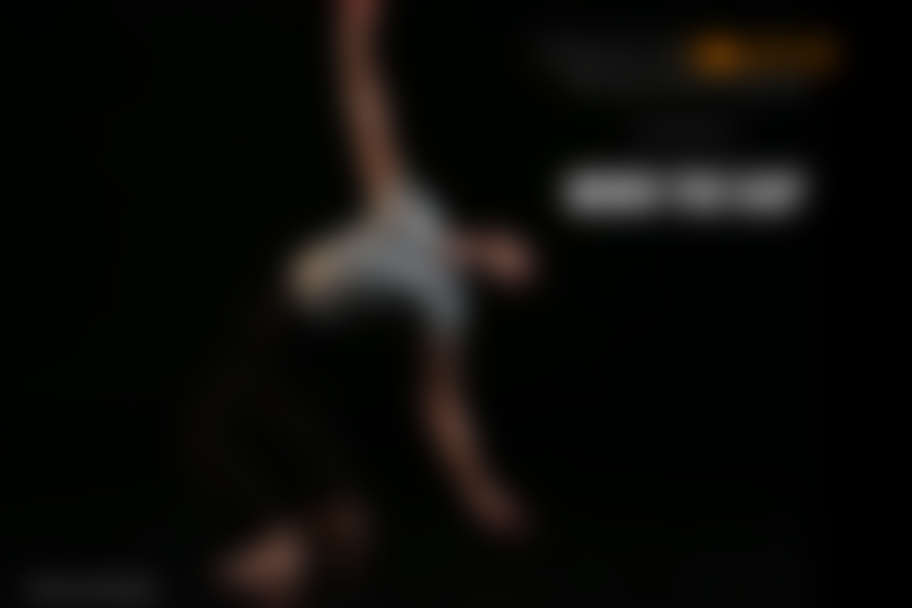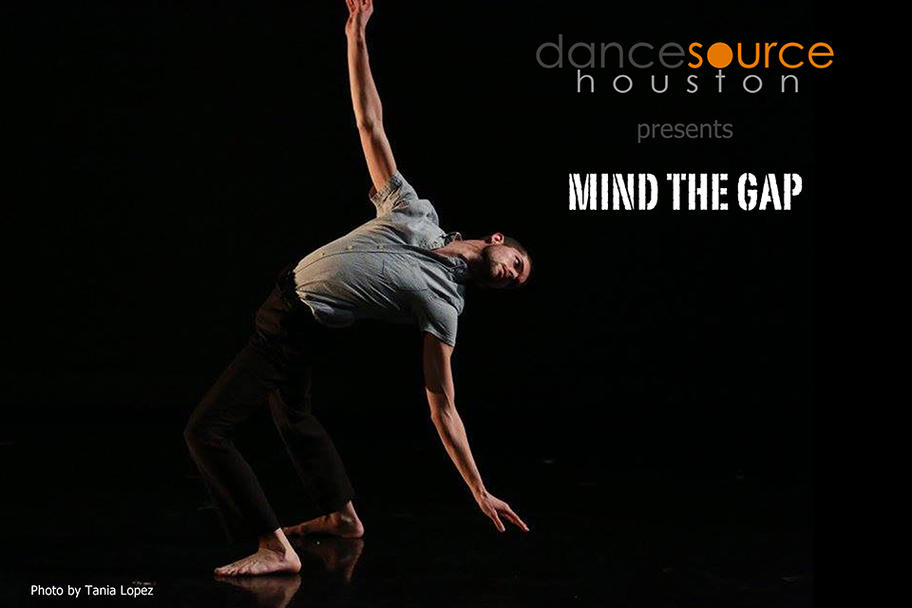 Dance Source Houston will present the first Mind The Gap performance of the 2017-18 season on October 3, in partnership with MATCH. The evening will featuring reprisals, premieres and works-in-progress from Houston-area choreographers including Michelle Cantua, Ashley Clos, Donna Crump, Elisa De La Rosa, Samantha Hendricks, and Kalpana Subbarao. The program will feature modern, contemporary, dance-on-film and Kathak works.
Mind The Gap supports artists by offering both an artistic platform and real-time professional development. In addition to creating vital performance opportunities for local dancemakers, Mind The Gap provides support in production planning and management, as well as marketing, budgeting and audience development. Members of both MATCH and DSH staff work with the participating artists to ensure they have the tools and information necessary to successfully present in the art-centric space.
Choreographers & Work Descriptions:
Michelle Cantua holds a BFA in Dance from Sam Houston State University and is currently pursuing her MFA in dance from SHSU, training under the direction of Elijah Gibson, Joshua Manculich, Andy and Dionne Noble, David Deveau, Betty and Dana Nicolay and Jennifer Pontius. In 2013 and 2014 Michelle was a recipient of the Stage Craft Apprentice Scholarship from the American Dance Festival (ADF) in Durham, North Carolina. While at ADF, Cantua had the opportunity of working closely with renowned artists and companies. In the summer of 2016, Cantua had the privilege of traveling to Lucca Italy, participating in the three-week contemporary dance workshop, Dance Italia, where she trained with Nicole Von Arx, Elita Cannata, Cristina Planas Leitao and Cristiano Fabbri. Cantua's choreography has been showcased in Bailando Dance Festival, Barnstorm Dance Fest and most recently The Boston Contemporary Dance Festival.
Invisible Pressure is a solo that speaks to the imperceptible burdens that one carries and how they manifest themselves in day-to- day life. Whether these burdens are personal or set on by others, more often than not, they always seem to find their way to the surface.
Ashley Clos is a choreographer, teacher, and freelance writer from The Woodlands, TX.She received a Master of Fine Arts degree in Dance from Sam Houston State University in May of 2017. Ashley's choreography and research has been showcased at the Ailey Citigroup Theater in New York City, the American College Dance Association South-Central Adjudicated and Informal Concerts, and the Southwest Popular/American Culture Association Conference in Albuquerque, NM. During her time at SHSU, she was privileged to perform in works by Dionne and Andy Noble of NobleMotion Dance, Erin Reck of Recked Productions, Dana Nicolay of Nicolay Dance Works, guest artist Jane Weiner of Hope Stone Dance, as well as the late, great Jonathan Charles-Smith. Ashley currently lives in Houston, TX with her partner Stefan and their dog Junebug.
A Yearning for Clarity is an excerpt from Hazards of Being Free, an hour-long MFA thesis concert by Ashley Clos. The concert, presented last May, took its inspiration from David Foster Wallace's novel titled Infinite Jest. Danced by the subtle and exquisite Timothy Amirault, A Yearning for Clarity explores the desire for an experiential, natural, even spiritual life in a world rife with ways to escape reality. The solo depicts the yearning for clarity of who one is, where one is, and why one is. The work's sound score features recordings by Glenn Gould and music by the Microphones.
Donna Crump is an award- winning choreographer and performing artist from New Orleans, Louisiana who has been dancing for over 30 years. She holds a BFA in dance from Tulane University and has also studied and created dance in New York, South Africa with the First Physical Dance Theatre and in Brazil with the country's premier dance company, Grupo Corpo. Donna served as the resident choreographer for the Marigny Opera Ballet in New Orleans over the inaugural season in 2014/2015 and also became a mother to Mr. Lyon that same year. Donna is currently performing and directing her contemporary dance company, Good Dance Since 1984, which has performed in many national dance festivals in such places as New Orleans, Houston, Boston, Alabama, and more. Since founding Good Dance in 2012, Crump has produced several full-length works, started the pre-professional division of Good Dance, and starred in several commercials and films along side directors like Spike Lee and Garrett Bradley. Donna has studied with Desmond Richardson, John Allen, and Nathan Trice/Rituals to name a few. Donna Crump and Good Dance wholeheartedly believe that dance starts with a feeling, ends with an action, and lives in the soul.
Gend[H]er is a new work in progress that explores femininity as it relates to relationships and identities. The piece recognizes the feminine strength and her abilities and inabilities to be vulnerable. The current work features a series of duets and solos that call for athleticism, grace, and most of all awareness of self, which will be created into an evening length piece in the Spring of 2018. Performed to the visceral and composed soundtracks of Christian Scott Atunde Adjuah and elaborate contemporary pianos of Hauschka, Gend[H]er is sure to raise the question: what does it mean to be vulnerable?
Elisa De La Rosa is a choreographer, performer, and dance educator and the founding artistic director of De La Rosa Dance Company, a dance company which explores improvisation structures for performance work. De La Rosa is a dance educator at a public high school fine arts dance program. De La Rosa has choreographed works for Muscle Memory Dance Theatre, MamLuft&Co. Dance, Eastfield College Dance Company, and Perpetual Motion Dance. De La Rosa received a BA in Dance with Secondary Teacher Certification from Texas Woman's University and is currently pursuing an MFA in Dance at Montclair State University in New Jersey.
inmigrante is inspired by the Mexican Immigrants who travel the arduous journey to the United States of America. inmigrante explores the sacrifice that the Mexican immigrants make to migrate illegally in pursuit of a better future. The piece features a dance film in collaboration with Kassandra Sanchez-Alvarado. This film documents the process of migrating from Mexico across the Rio Grande River and into the United States.
Kalpana Subbarao is a Kathak artist with over 20 years combined experience in Indian classical dance forms, Bharatanatyam and Kathak. She grew up in India learning classical Bharatanatyam for 15 years. She came to Houston in 1991, gained an advanced degree in Computer Science and worked as a software engineer for a global Fortune 100 company till 2008. She gave up dancing for 17 years while she focused on work and raising a family. In 2008, with her family on firmer footing, she retired from the corporate world and had the opportunity to live overseas in India and then Malaysia, where she reignited her passion for dancing. She was always drawn to the graceful rhythmic form of classical Kathak though she had not had any formal training in this style from before. She feels fortunate to have found a teacher like Pandit Sontosh Maharaj, who has been teaching her Kathak for the past 6 years and continues to do so today. With two grownup daughters now, Kalpana can be found practicing Kathak, creating new dances and teaching Kathak at Silambam Houston, located in Pearland.
"Absence is to love what wind is to fire; it extinguishes the small, it inflames the great." This quote by Roger de Bussy-Rabutin captures the spirit of the dance, Beloved, by Kalpana Subbarao. Using Kathak, a classical dance form from the Northern parts of India, she has choreographed and portrays a woman waiting for her beloved to return to her. Her eyes turn to stone while she waits for him but her love for him is not diminished. His memories adorn her and fill her with happiness. With him in her life, she has no desire for anything or anyone else. He completes her. The music is by Raghu Dixit, a contemporary folk musician from India, from his album Jag Changa (The World is Beautiful).
Samantha Hendricks graduated from Sam Houston State University with a Bachelor of Fine Arts in Dance and a minor in General Business. She has had the pleasure of working with various artists including Jennifer Mabus, Dionne Noble, Erin Reck, Amy Elizabeth, and Elisabetta Minutoli just to name a few. She recently studied in Rome, Italy with Vivo Ballet directed by Enzo Celli. Samantha has received her Comprehensive Pilates Certification through the Balanced Body Certification Program under the guidance of Betty Nicolay. Samantha is interested in continuing her dance career through performing as well as producing work of her own.
Hendricks' work, I Will Follow You Into The Dark, is of two individuals on separate paths, which intersect to help carry each other through a new part of life. People have a common tendency to think of themselves or their own timeline. When these paths of isolation intersect it's how we move forward and make a new course together.