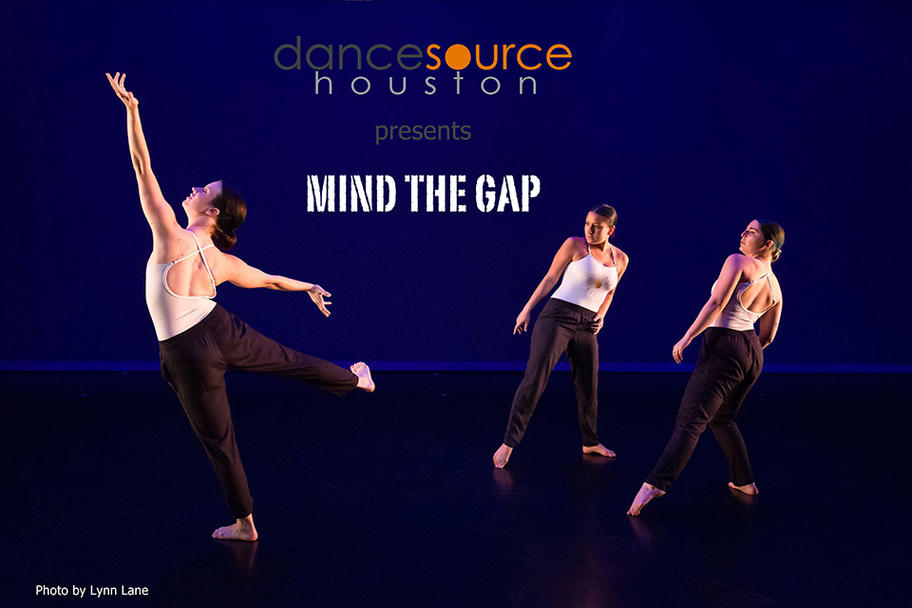 Dance Source Houston, in collaboration with MATCH, will present the third Mind The Gap performance of the 2017-18 season on March 6. The evening will feature works by DSH members Tuesday Moon Boswell, Ayan Felix, Randall Flinn, Ty' Lewis, Gaby Luna, Melody Johnson, Katie Rodrigues and Kara Stenz.
Mind The Gap supports artists by offering both an artistic platform and real-time professional development. In addition to creating vital performance opportunities for local dancemakers, Mind The Gap provides support in production planning and management, as well as marketing, budgeting and audience development. Members of both MATCH and DSH staff work with the participating artists to ensure they have the tools and information necessary to successfully present in the art-centric space.
Choreographer Bios
Tuesday Moon Boswell is from Houston, Texas where she attended San Jacinto College where she found her passion for the arts. She studied under artist such as Diane Cahile Bedford, Jennifer Hart Salter, Brittany Thetford Deveau and Jamie Zahradnik Williams. Tuesday is currently a senior at Sam Houston State University where she plans to graduate with her Bachelors of Fine Arts in Dance in the Spring of 2018. Since her time at Sam Houston, she has had the opportunity to perform in Bailando Dance Festival in Corpus Christi, Barn Storm Dance Festival in Houston, Contemporary Dance Festival in Boston and Dance Gallery in New York. Tuesday has guest performed with NobleMotion Dance, in shows such as "StormFront", "Supernova", and most recently,"Catapult" at the Hobby Center of Performing arts, under the direction of Andy and Dionne Noble. She has studied under professors such as Elijah Gibson, Andy and Dionne Noble, Erin Reck, Jennifer Mabus, Dana Nicolay and worked with many undergrad and graduate artists such as Michelle Cantua, Ashley Clos, Jared Doster and Victoria DeRenzo.
Ayan Felix is a Gulf Coast native living her dance career via bricolage. Throughout the years she has entertained various forms of movement, innervating her style with music, technology, and ancestry. She is an alumnus of Franklin & Marshall College with a major in Neuroscience and a minor in Dance. Since moving back to Texas she has used movement to understand questions about life, the universe, and everything. This has brought Ayan to join the diverse legacy of Suchu Dance/Jennifer Wood and work with Pilot Dance Project.
Somya Gupta recently graduated from University of Houston with a major in Media Production and a minor in Dance. Gupta hopes to find her way into professional dance with a focus on film and dance. Currently, she has her hand in graphic design and videography for local Houston businesses/companies. She is excited to keep moving forward and plans to keep things interesting along the way!
Melody Johnson has trained for 20 years in many styles of dance including ballet, modern, contemporary and more. She has trained in dance and theater with Excelsior School of Dance and CYT Houston. She received her teacher training from Excelsior in 2006. In 2007, Melody began her work as a choreographer. She has become well known for her work in theater and dance in The Woodlands, Conroe, Tomball, Spring and Houston areas. In 2015, Melody started her own company, ReFine Arts Production. ReFine Arts has grown tremendously in the past two years. Melody is now an award-winning choreographer and has many plans for the future of ReFine Arts.
Ty'esha Lewis is a performing artist, choreographer and teacher from Houston, TX. Her adventure began on her high school drill team, where she fell in love with performance and choreography. Since then she has flourished as a developing artist, by deepening her self expression and stimulating her mind. Ty'esha is thankful for the training and education she received from San Jacinto College and Sam Housotn State University, where she devoted herself to her craft. During her time as a student, she received the San Jacinto College Performance Award as well as the Sam Houston State University Choreography Award for two consecutive years. She has attended performance and choreographic workshops, intensives and master classes in Huntsville, Houston, Austin, New York, San Fransisco and Europe. After graduating from SHSU she began her journey as an independent artists and was welcomed as one of Dance Source Houston's 2016-2017 Artists In Residence where she was given the opportunity to create and present new work for Barnstorm Dance Fest. Ty'esha challenges her audience to connect with feeling and vulnerability expressed through her work and invites them into her world to accept or reject it. She seeks to share her passion for movement through teaching, directing and performance in the hopes of awakening lives.
Gaby Luna received a BS in Kinesiology with a minor in dance from the University of Houston, where she was a cheerleader for the Spirit of Houston. She has performed with Karen Stokes Dance, Psophonia Dance Company, NobleMotion, Chapman Dance and 6 Degrees. She is a dancer with Soreal Dance Crew and has traveled nationally to compete with them. She was an intern at Broadway Dance Center in NYC and has modeled for Dance Spirit Magazine.
Katie Rodrigues is originally from Connecticut but started her dance training in Houston, TX at the Houston Academy of Dance. She continued her education at Point Park University's dance conservatory where she received her BA. Since graduating, she has danced with the Dance Conservatory of Pittsburgh's company H20. Katie continues to dance and share her love of movement with all ages and backgrounds through choreographing, personal training and teaching yoga.
Kara Stenz lives in Houston, Texas and grew up training in ballet and modern dance. She graduated Magna Cum Laude from University of Houston with her B.A. in Dance in May 2016. During her time at UH she was a member of the UH dance ensemble and performed/choreographed in the emerging choreographers showcase. Kara has also performed in festivals throughout the United States including; The Dance Gallery, Barnstorm Dance Fest, SoloDuo, American College Dance Festival, Mind The Gap as well as performed for the Houston Symphony in their production of The Pilgrimage of the Rose. She is a company member of His Company International and has traveled overseas on two European dance tours. Kara continues to perform, train, choreograph and teach throughout Houston and is passionate about the Houston arts.