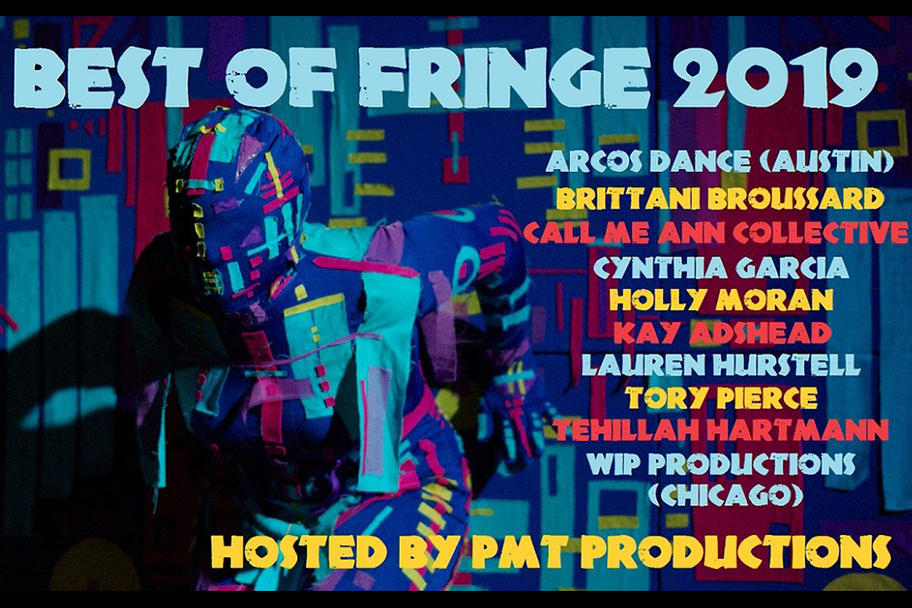 The Houston Fringe Festival's annual spring showcase, Best of Fringe 2019, returns with a one-night engagement. On May 10, musical theater group PMT Productions will host an evening of performance art, contemporary dance, dance-for-camera, rock opera, and performance poetry featuring four newcomers to the Houston Fringe Festival roster and six returning veterans. Featured in the line-up is guest artist ARCOS Dance, made possible with support by a grant from the Texas Commission on the Arts.
ARCOS Dance will present "One Day Stint." This performance is one in a series of dance pieces by ARCOS that provokes interaction from the audience and exposes how contemporary technology transforms our daily lives. Recorded instructions at the opening of the piece instruct audience members to take out and wake up or power on their phones, turn the volume up all the way, and go to a short url in their mobile browser. The female performer who was been still onstage then begins to perform a solo dance, accompanied both by a recorded track conventionally played through the theater's sound system as well as several other tracks played by an orchestra of phone speakers throughout the space.
Other first-time festival participants include Call Me Ann Collective, a group of local musicians who will present songs from a rock opera cycle about Texas Governor Ann Richards, and how her re-election loss to Gov. Bush in 1994 changed the course of American history; local dancer/choreographer Cynthia Garcia and her piece about two people caught in a dysfunctional romance that they just can't seem to escape; and Chicago-based performance art troupe WIP Productions, who will bring to Houston "Absence," a solo about a woman awakening to the shocking reality that she can no longer speak.
The newcomers will be joined by Houston Fringe veterans Brittani Broussard, a local performance artist who will present "Guise," a body sculpture performance piece that will see her camouflaged in front of a colorful, multimaterial wall; Holly Moran and her dance-for-camera work, a culmination of some of her favorite choreography from her career - paying homage to her journey, those who have inspired her, and breath itself; new works by local choreographers Lauren Hurstell and Tory Pierce; "The Slug Sabbatical," A grotesquely humorous, and surprisingly tender, genre-defying performance poem performed by veteran actress and award-winning writer, Kay Adshead; and Tehillah Hartmann's "le Masque," an exploration of the multiple identities of Satan as depicted in the Bible, weaving them together to illustrate his nature through movement, spoken text, and theatrics.
Applications for the 12th Annual Houston Fringe Festival will go live April 1, 2019. This year's festival will be held October 23 - November 10 at MATCH.
* * *
The Houston Fringe Festival is a program of the Pilot Dance Project, a 501(c)3 non-profit arts organization with the mission to empower and transform communities through innovative dance, theater, and visual art.