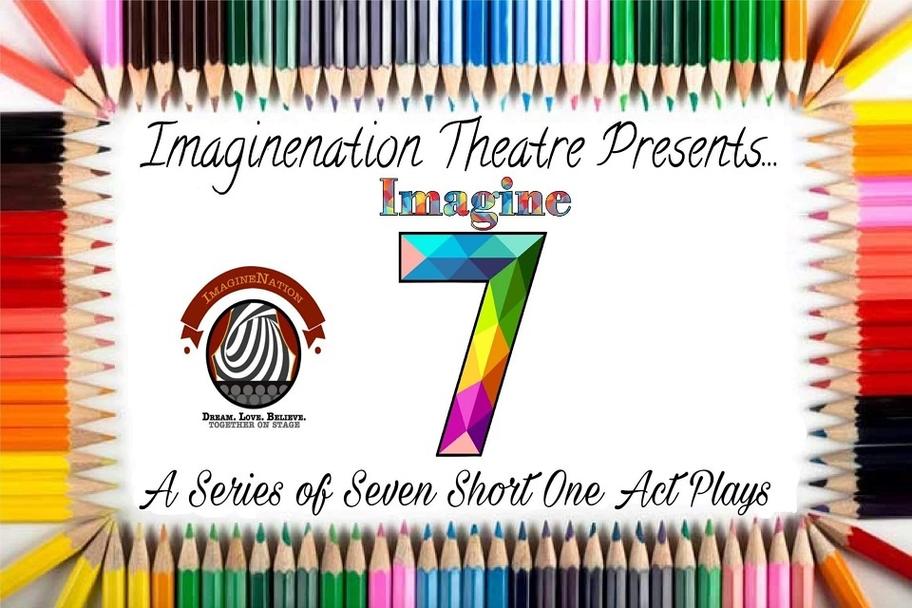 | Date | TIme | |
| --- | --- | --- |
| Wednesday, Nov. 6 | 7:00 PM | |
| Thursday, Nov. 7 | 7:00 PM | |
| Friday, Nov. 8 | 6:30 PM | |
| Saturday, Nov. 9 | 1:00 PM | |
| Saturday, Nov. 9 | 5:00 PM | |
Imagine7 is a theatre arts production of seven original One-Act short plays. Join ImagineNation Theatre for an evening of contrasting shows, ranging from satirical, dramatic and comedic performances by young adults ages 14-25. All shows are unique and written and directed by local Houston artists. Each plays ranges from 12-20 minutes in duration.
"Little Steps" Written and Directed by Bethany Romo
"A journey of a thousand miles begins with a single step" -Lao Tzu
In a world that seems to be moving too fast, everyday life can seem very daunting for someone who is still figuring everything out. Through a mixture of monologues and dance, the audience will see how two young people learn how to take that first step in their journey.
"Home" Written by Andrew Steward, Directed by Andrew Steward and Kyle Rogers
In 2010, Mrs. Cane, a 47-year-old retired art professor, gives an assignment to her four students, David, Alyssa, Michael, and Emily. Their goal is to find what the word "Home" means to them. A young, mysterious, man walks in and changes the feel of the room and the assignment. The students tell their stories with creativity and each has his/her own inner message that speaks from the heart.
"Lovers" Written and Directed by Meagan Cate
An audacious storytelling of an insecure young woman recalling her bizarre experiences with three former lovers.
"Let's Get It On" Written by Kelley Pereira, Directed by Andrew Steward
In the finicky world of suburbia boredom, two best friends learn what it means to find love at the tender age of 16… and how impossible that really is while parents are sniffing around and the love in question takes the form of an entitled, pre-pubescent Justin Bieber.
"Dreamland" Written by Eric C. Jones, Directed by Andrew Steward
Go back in time to 1924 with William Morgan, a 30-year-old WWI hero, his wife Kitty Morgan, a 27-year-old Southern Belle, and their help Melba, a 22-year-old African American maid, as they arrive at their beautiful getaway house in Mayfair Beach Club in Martha's Vineyard. William has a great opportunity ahead of him but a hidden past and a deep secret resurfaces that could be devastating to all characters. This short story involves humor and serious tones dealing with the racism that existed in that time period.
"3600 Seconds" Written and Directed by Jett Latham
Six strangers awaken in a room with a dead body. They have no memory of how they got there and no knowledge of why they are there. It's not until they find a letter on the body that reveals they have 3600 seconds to make sure that only one of them is alive in the end. They realize they are in the middle of a psychopath's experiment and have to play along. Who will make it to the end? Who will die? Who will live?
"Forsaken" Written and Directed by Cali Noack
In a city that has twice as many brothels as Starbucks, Houston is currently home to over 300,000 trafficking victims. This story follows a group of young women lost in the shadows cast by the dark realities of human trafficking. At 16, Mira has been trapped in this lifestyle for six years. The crushing hopelessness she endures has created a jaded outlook on life. After a failed attempt to escape her circumstances, she comes to the realization that she can't abandon the only friends she has. Instead, she continues to deal with physical abuse, emotional turmoil, and a deterioration of hope for a better future. When she crosses paths with an idealistic young man, he challenges her to reconsider her perception of truth. Mira is forced to confront her own beliefs in hope, love, and self-preservation.