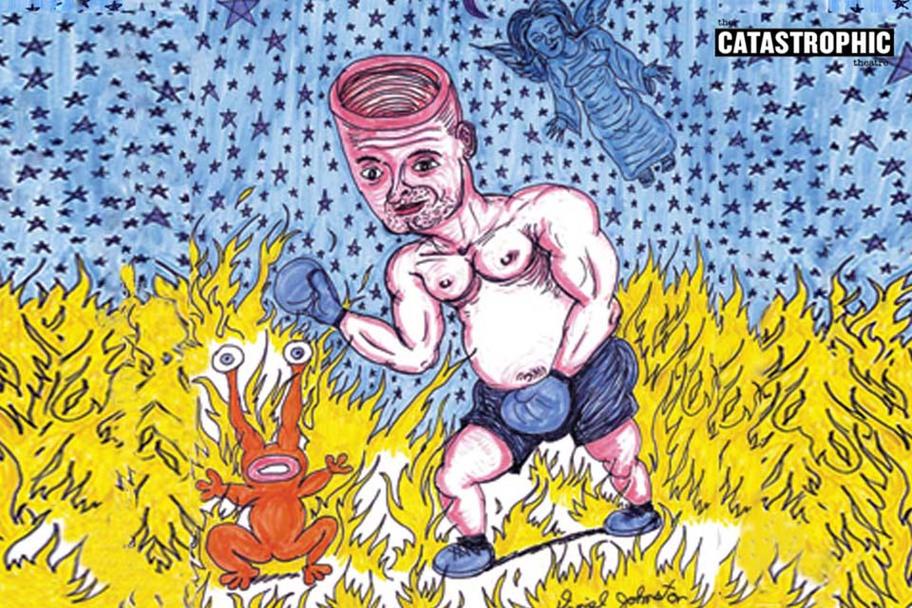 | Date | TIme | | Note |
| --- | --- | --- | --- |
| Thursday, Jun. 27 | 7:30 PM | | Underwriter |
| Friday, Jun. 28 | 8:00 PM | | Opening Night |
| Saturday, Jun. 29 | 8:00 PM | | |
| Sunday, Jun. 30 | 2:30 PM | | |
| Friday, Jul. 5 | 8:00 PM | | |
| Saturday, Jul. 6 | 8:00 PM | | |
| Sunday, Jul. 7 | 2:30 PM | | Talkback |
| Thursday, Jul. 11 | 7:30 PM | | |
| Friday, Jul. 12 | 8:00 PM | | |
| Saturday, Jul. 13 | 8:00 PM | | |
| Sunday, Jul. 14 | 2:30 PM | | |
| Monday, Jul. 15 | 7:30 PM | | Industry Night |
| Thursday, Jul. 18 | 7:30 PM | | |
| Friday, Jul. 19 | 8:00 PM | | |
| Saturday, Jul. 20 | 8:00 PM | | |
| Sunday, Jul. 21 | 2:30 PM | | Talkback |
| Thursday, Jul. 25 | 7:30 PM | | |
| Friday, Jul. 26 | 8:00 PM | | |
| Saturday, Jul. 27 | 8:00 PM | | |
| Sunday, Jul. 28 | 2:30 PM | | |
| Thursday, Aug. 1 | 7:30 PM | | |
| Friday, Aug. 2 | 8:00 PM | | |
| Saturday, Aug. 3 | 8:00 PM | | |
| Sunday, Aug. 4 | 2:30 PM | | |
Words and music by Daniel Johnston. Directed by Tamarie Cooper and Jason Nodler
Standby Process
If your desired performance date is sold out, you can purchase a standby ticket during our box office hours by calling the box office at (713) 521-4533 or in person. For full information on how standby works, please visit our box office information page.
---
An all-time Catastrophic favorite returns! The original rock opera, based entirely on the songs of legendary outsider musician and artist Daniel Johnston, was originally performed to rave reviews in 2006. This first-ever revival, directed by Catastrophic's Associate Artistic Director, Tamarie Cooper, reunites much of the original creative team along with an updated script by Catastrophic's Artistic Director Jason Nodler. According to Nodler, Daniel Johnston "is the best-kept secret in the history of pop music. […] His music is tremendously accessible. People who are familiar with his stuff will really go for the show. But our target audience is people who've never heard of him before."
SPEEDING MOTORCYCLE takes audiences deep into the astounding, hilarious, and heartbreaking world of one of America's most compelling cult musicians. The story concerns a man named Joe Boxer—played by multiple actors to echo his fractured personality—who loses his mind when he's rejected by the woman he loves so she can marry an undertaker and become his assistant. Joe decides the only way to be with her is to die, so she'll prepare his body for burial. That's the first half of the story: He resolves to die. The second half is his afterlife, after the funeral. What does he do next?
The original 2006 production received glowing coverage in the New York Times music section which noted how the score "ricochets from toe-tapping, feel-good songs to discordant, despairing dirges, a reflection of Mr. Johnston's bipolar disorder." The Houston Press also raved about the original production: "Johnston…writes often of unrequited love, deep despair and death. So it is a strange and altogether wonderful surprise that the story Nodler has constructed out of Johnston's powerful music is nothing if not uplifting. […] It's a world where death can be a nice place, and unrequited love can cut down to the spine and fill you with satisfying pain all at once."
Thursdays at 7:30 PM
Fridays and Saturdays at 8:00 PM
Sundays at 2:30 PM
June 27 thru August 4
All tickets Pay-What-You-Can