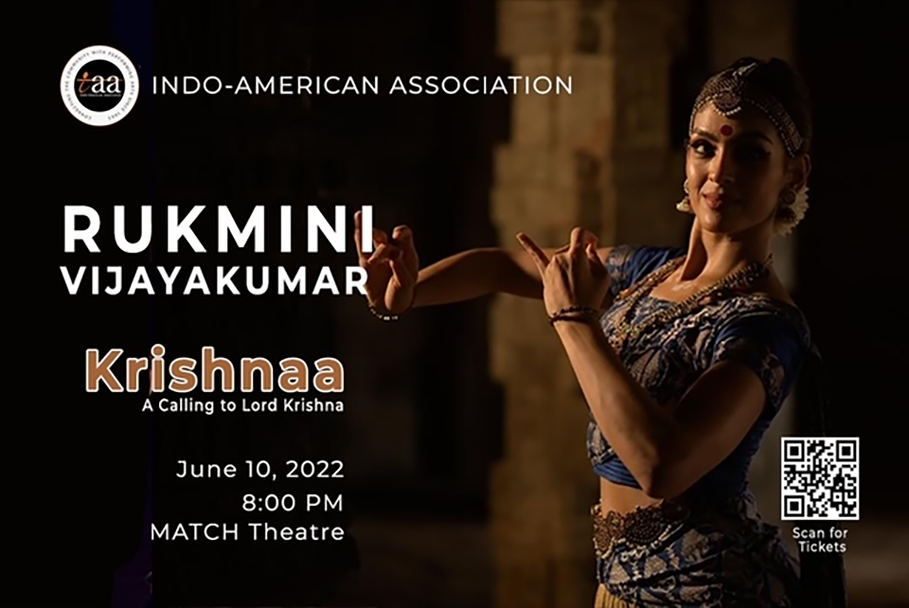 by internationally renowned Bharatanatyam Choreographer, Rukmini Vijayakumar
"...Rukmini has burning eyes that repeatedly catch the observer's breath; and she makes those eyes part of the fabric of the dance.... she is not just engaging but also authoritative."
-The New York Times (2011, By Alastair Macaulay)
Krishnaa A calling to Lord Krishna… is a collection of short Bharatnatyam pieces by Rukmini Vijayakumar, an Indian choreographer, Bharatanatyam dancer, and actress. The Krishnaa production is a collection of traditional pieces each one addressing Lord Krishna, seen from differing perspectives.
Rukmini Vijayakumar is the artistic director of Raadha Kalpa Dance Company and the director of Lshva, a creative space for artists in the heart of Bangalore. She is the founder of The Raadha Kalpa method an educational system for Bharatanatyam that is based on the idea of neutrality.
Rukmini's approach to Bharatanatyam is dedicated, rigorous and layered. She has presented her work as a soloist all over the world, including venues such as the Jacobs Pillow festival, Drive East NYC, and the Korzo Theater. Recently she played 'the goddess of love' in 'Sukanya,' produced by The Royal Opera house in London.
She has studied Bharatanatyam under Guru Padmini Rao, Guru Sundari Santhanam and Guru Narmada. Her style is greatly influenced by the ancient movement practice of Karanas. A Graduate of the Boston Conservatory, Rukmini's process of creation is both traditional and contemporary. She was a recipient of the Jiri Kylian grant for choreography and a resident choreographer at Korzo theater, Netherlands in 2018. Her productions, Nayani, Prabhavati, Abhimata, Talattu and The Dark Lord, have toured India and the world extensively. Her more recent work, Turiya, MALA, The Muse and Unrequited were created within the contemporary idiom and have been appreciated for their creative approach to the Bharatanatyam vocabulary. She was bestowed the title of Arsha Kala Bhushanam by Swami Dayananda Saraswati.
Also an actor, Rukmini has been recognized for the roles that she has played in a number of Indian films and theater performances.
Run Time: 90 mins
Age: All ages
The music for the production has been provided by an ensemble of leading artists including:
Vocals: Raghuram R & Nandakumar Unnikrishnan
Nattuvangam: D Prasanna Kumar
Mridangam: Harsha Samaga & N Kesavan
Flute: Mahesha Swamy
Jathi Composition (Varnam): G Gurumurthy