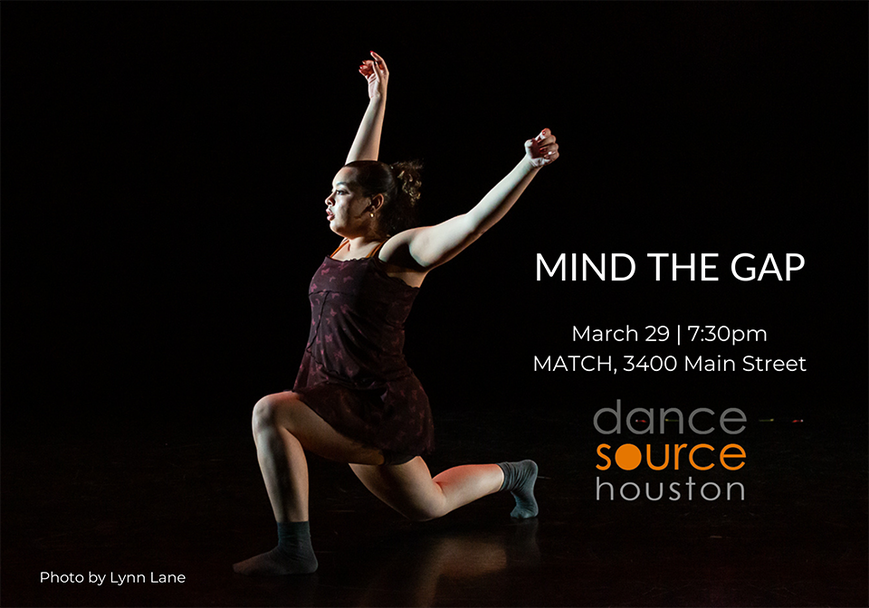 | Date | TIme | | Note |
| --- | --- | --- | --- |
| Tuesday, Mar. 29 | 7:30 PM | | Livestream CST |
| Tuesday, Mar. 29 | 7:30 PM | | In Person |
| Monday, Apr. 11 | 12:00 PM | | |
An evening of danceworks by local choreographers Kendahl Bermudez, Lindsay Cortner, Joshua De Alba, Karen Imas, Amanda Monteith, Neha Pendse, and Jose Zamora
Purchase access to the Video-On-Demand of this performance!
Dance Source Houston presents the 19th edition of Mind The Gap, a showcase series featuring danceworks by local choreographers. The program includes works by Kendahl Bermudez, Lindsay Cortner, Joshua De Alba, Karen Imas, Amanda Monteith, Neha Pendse, and Jose Zamora. The evening will feature performances from a range of genres including contemporary, dance theater, Kathak, and more.
Mind The Gap was created in partnership with MATCH to support independent choreographers and small dance companies present their work. The program offers participants high production value, low administrative burden, shared ticket income, as well as production and audience development support. Begun in January 2017, Mind The Gap has featured works by more than 90 local dancemakers to date.
Choreographer Bios
Kendahl Bermudez holds an Associates in Dance Studies and Dance Performance from Florida School of the Arts. She is a current student with University of Houston Kathrine G. McGovern College of the Arts School of Theatre & Dance where she is continuing her undergraduate degree for a Bachelor of Fine Arts in Dance. Bermudez began her professional dance career in Palm Coast, FL performing with a New York-based company called Supremacy Dance Inc. During her time with Supremacy Dance Inc., she received funding to teach dance to local underprivileged youth in a nearby playhouse. Here she developed skills towards working as the lead dance director for multiple summer intensives. While studying with Florida School of the Arts, Bermudez had the privilege to work with Mandy Cox, Sara Procopio, Trent Williams Jr, Mary Love Ward, and Jessica Mayhew. Bermudez has also entered a dance film, titled Atrapada, into the 2022 ACDA Screendance Film Festival.
Lindsay Cortner began her dance training with Carolyn and Beth Gulledge, dancing with Uptown Dance Company II as a teenager, where she received many performance opportunities locally, as well as in New York, Mexico, Costa Rica, China, Austria, and Germany. She moved to New York after high school to study at The Ailey School, training under Ana Marie Forsythe and Milton Myers, among others, and performing choreography by Sidra Bell. When Cortner moved back to Houston, she became a founding member of Uptown Dance Company and spent two seasons guesting with Sandra Organ Dance Company. After eight seasons with Uptown, she transitioned into freelance dance and has since performed as a company member with Psophonia, Frame Dance Productions, and Pilot Dance Project, as a project-based artist with Dinolion, Opera in the Heights, and Transitory Sound and Movement Collective, and as a guest with Juxtapose Arts Collective, METdance, and Houston Contemporary Dance Company. She has also worked with several independent choreographers in projects presented in festivals such as Barnstorm and Fringe Festival. Cortner is also a seasoned dance teacher of multiple disciplines, including ballet, Horton, contemporary, and creative movement. Additionally, she is a certified Forrest Yoga teacher and graduated with honors from the University of St. Thomas. Cortner debuted her first dance for camera piece in the Houston film Festival, Frame x Frame Film Fest 2019. She has set choreography on Uptown Dance Company II, Bayou City Ballet's pre-professional company, and Opera in the Heights, and is currently most interested in exploring and expanding her creative process.
Joshua De Alba is a native of Orlando Florida, where he trained as a musician before discovering dance. He began working as a dancer and teacher in central Florida and around the country, eventually deciding to pursue an education in theatre and dance from Northwestern State University. de Alba focused on developing choreography during his studies, & was fortunate to present two concert works that were selected to be performed at the Kennedy Center for the American Dance Festival. He also pursued professional development, working to plan the DCI Summer Tour as an event coordinator for the non-profit based in Indianapolis Indiana. Upon graduating Joshua relocated to Houston to work with local dance theatre company Open Dance Project, and has since been able to work with Houston Grand Opera, NobleMotion, HopeStone, METDance, Cirque Noir, and Houston Contemporary. Joshua spends his time riding his bike around the Heights, rehearsing with ODP, and teaching aerial silks at Hunter Dance Center.
Karen Imas has lived, worked, and performed in Houston, Texas since 2009. Recent work includes Vanity Redux, In Company, Dog Commands, Myakanin, Transitory Sound & Movement Collective's Collective Isolation Series, Danse Macabre: Constant Companion, Siren amongst others. Karen's performance training includes modern dance, butoh, puppetry, ensemble and solo devising, and mask theatre. Learn more about Karen at kima.live/. Karen is honored to work with Adam Castaneda again on their third dance work! Adam is the most fluid and dynamic dancer and choreographer Karen has worked within a very long time. Adam is the executive and artistic director of The Pilot Dance Project.
Originally from New York, Amanda Monteith is a dancer and artist based in Houston, Texas, holding a Dance BFA from Arizona State University where she developed multiple works shown on both virtual and live platforms. She has presented work on international film festivals as well as danceTactic's most recent presentation, Quick Festival. This fall, Amanda has performed in collaboration with Houston Contemporary Dance Company and 6 Degrees Dance. Amanda's work explores relationship dynamics between herself and others, using complex themes to conjure honesty and vulnerability. Her art strives to make its home in the minds of others, imprinting them with an uncanny similarity to their own interactions with others and with themselves.
Neha Pendse is the founder and artistic director of Aaradhana Academy of Kathak Dance in Houston. She is from India and holds a master's degree in Kathak dance( Indian Classical Dance ) and secured first position in university for the same. She is a scholarship awardee in Kathak by CCRT Govt of India. She has also received word of appreciation from then President of India Mrs. Pratibha Tai Patil for her contribution to Kathak dance. She is the disciple of famous dancers Late Mrs. Savita Godbole, Dr. Suchitra Karmakar, and Padmashree Shovana Narayan Traxl. She has mentored a large pool of students for 14 years . She has been working in theatre as an actress since childhood. She also holds a master's degree in supply chain management and logistics from the University of Houston. She has performed in many prestigious festivals and secured first positions in various dance competitions. She now also serves on a judges panel in various organizations for dance in Houston.
Jose Zamora AKA CholoRock, celebrates his Gay, Mexican-American experience through contemporary dance and dance theatre. Jose is very passionate about Drag performance, and Mexican-American and Queer representation in dance performance and education. Zamora is a dance lecturer at South Texas College, and an alumnus of Texas Woman's University. Zamora's work will be performed by The Pilot Dance Project, a multi-faceted arts organization with the mission "to empower and transform communities through innovative dance and performing arts experiences." Under the executive and artistic direction of Adam Castan?eda, The Pilot Dance Project serves the community though the creation of new dance works by some of the city's most celebrated choreographers; the production of a year-long program of multidisciplinary performing arts festivals (Houston Fringe Festival, Queer Fringe Houston, the Texas Latino/a/x Contemporary Dance Festival); and an accessible fiscal sponsorship program for independent artists of all disciplines. Since 2017, The Pilot Dance Project has commissioned evening-length and repertory dance works by Ashley Horn, jhon r. stronks, Jennifer Mabus, Jaime Fruge-Walne, Lori Yuill, Orlando Hunter (Brooklyn), and Erica Gionfriddo (Austin). The company is excited to perform Jose Zamora's "Tres Bailes de Amor" for its 2022 performance season.
NOTE: Patrons purchasing the livestream option can watch the event live OR via video on demand until April 15 at midnight.