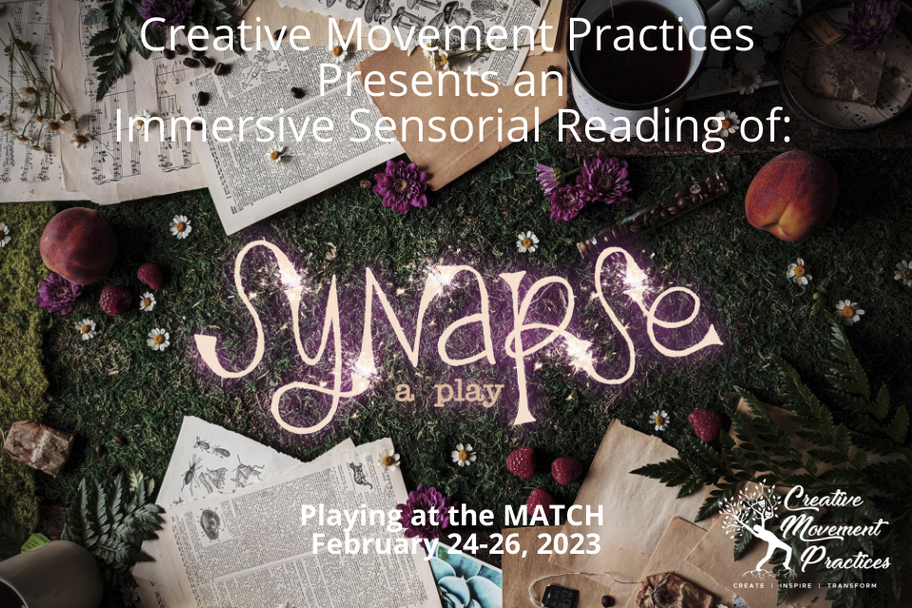 | Date | TIme | |
| --- | --- | --- |
| Friday, Feb. 24 | 8:00 PM | |
| Saturday, Feb. 25 | 3:00 PM | |
| Saturday, Feb. 25 | 8:00 PM | |
| Sunday, Feb. 26 | 3:00 PM | |
You are cordially invited to an immersive sensorial reading of a new work by local Houston area Actor/Playwright Shanae'a Moore. Synapse the Play is a celebration of all things neurodivergent, and follows the journey of Lyra as she discovers that she has more power than she ever imagined possible. Can Lyra adjust to the new powers and save her newfound friends/family before it is too late?
Synopsis of Show
Synapse the Play is a celebration of neurodivergence. It begins with Lyra locked in a mental facility, spending her days in monotony with only her visual synesthesia to keep her entertained. When a figure appears in her room, offering her a way out of her confinement, Lyra, quite off-put by this fantasy man, tells him, to kindly… f*** off. He doesn't take no for an answer. Lyra learns that her synesthesia is more powerful than she could ever imagine. Can Lyra learn to harness and re-purpose her energy before it is too late? As she embarks a journey of exploration and self-discovery, Lyra finds more than she bargains for while finally gaining a purpose and a family.
What Is an "Immersive Sensorial Reading"? What can I expect?
In a typical reading of a new work, you (the audience) would come sit in chairs and watch/listen to a group of actors read the new work. However, we invite you to encounter this new play a little differently. Director Sarah Sneesby and writer Shanae'a Moore, both neurodivergent artists, want to give you a taste of the world that Synapse is about. From the moment you enter the lobby until the end of the show we will ask you to use all of your senses as we build the world around you while providing visual and audio aids as you listen to a professionally recorded rendition of the new work. It is our hope that you will not only get a sneak peak at this new work currently in development, but that you will also get a taste of how neurodivergent people experience the world each and every day.